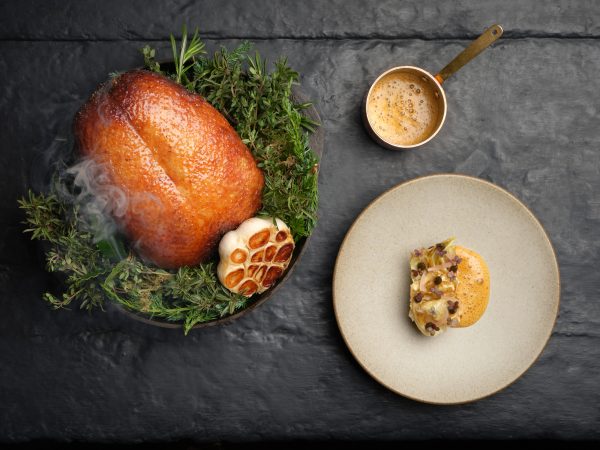 BOOK A TABLE
Restaurant
To reserve a table, please use the online booking form below. A credit card is required to secure the booking. The maximum number of guests per table is six.

Unfortunately, we cannot cater for dietary requirements on the day of booking. So, please specify any requirements when making your reservation.

Please refer to our FAQ page for any further information. Please note that L'Enclume is closed on Sundays and Mondays.
BOOK A ROOM
Rooms
If you book a room, we automatically guarantee a table at L'Enclume and breakfast at our sister restaurant Rogan & Co. Please note that this does not apply to Rogan & Co package bookings or stays on Sundays and Mondays. The room rate does not include the cost of dinner at L'Enclume.

Our rooms are open on Sundays and Mondays whilst our restaurants are closed. Enjoy an extra special rate and our 'Home by Simon Rogan Breakfast Box' in the morning, featuring a selection of homemade continental breakfast goodies delivered to your room.
'Cartmel is where it all started over 20 years ago. Intertwined and deeply connected to Our Farm in the Cartmel Valley, L'Enclume is situated in a former 13th-century blacksmith workshop where our talented team share my long-standing passion for homegrown, seasonal produce and treat all guests to an ever-evolving dining experience.' Simon Rogan
BOOK A SEAT
Aulis Cartmel
A unique glimpse behind the scenes at L'Enclume - Aulis is our development kitchen and ultimate chef's table experience. Book your individual seat, or hire our chef's table exclusively for six guests.

Aulis offers a unique, interactive dining experience at our chef's table and development kitchen in Cartmel. Due to the nature of the menu, we are unable to accept any allergies or dietary requirements. If the table is booked by one party in its entirety, please call our reservations team to discuss any requirements on +44 (0) 15395 36362.
Please note that Aulis Cartmel is closed on Sundays and Mondays.
Please find our amended December and January opening hours here.
Home by Simon Rogan
Shop & Home by Simon Rogan
Browse our selection of gifts, vouchers or L'Enclume keepsakes.
Our 'restaurant at home' dining experience delivered directly to your door. All our seasonal three-course menus are available alongside a great range of extras, such as British cheese and bespoke wine pairings.

At home, set the table and follow simple step-by-step videos demonstrating how to prepare the dishes.